Oriental Culture Holding LTD Announces 2020 Fiscal Year Financial Results
Hong Kong, China, April 30, 2021 -- Oriental Culture Holding LTD. ("OCG" or the "Company") (NASDAQ: OCG), a leading online provider of collectibles and artwork e-commerce services, today announced its financial results for the fiscal year ended December 31, 2020.
Key Financial Highlights for Fiscal Year 2020:
• Operating revenues increased by $4.0 million or 29.7% from $13.4 million in fiscal year 2019 to $17.4 million in fiscal year 2020.
• Gross profit was $14.8 million in 2020 as compared to $12.1 million in 2019, representing a 22.1% growth from the same period in 2019.
• Net income was $2.0 million in 2020, a decline of $7.1 million or 77.5% from $9.1 million in the same period of 2019.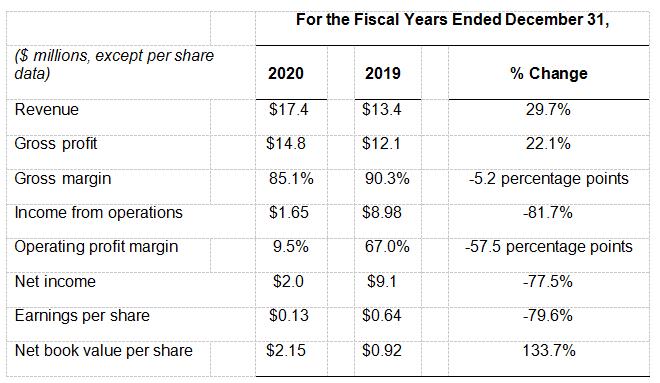 The information in this press release is subject to the more complete presentation set forth in in our Annual Report on Form 20-F for the period ended December 31, 2020 which will be filed with the Securities and Exchange Commission on April 30, 2021.
Mr. Lewis Wan, Chairman of the Board of Directors of the Company commented, "As Covid-19 vaccines become available to wider community in the world, we believe a global economic recovery in 2021 is around the corner. With quantitative easing and low interest rate, capital flow and world economy will likely head for a change. We believe that as money pours into the market as a common tool to stimulate economic growth, the scarcest asset will not be cash but real, liquid assets, especially those are valued in RMB considering the growth in China. The products traded on OCG's platforms are both valued in RMB, and are liquid assets that worth investing in with high collection values."
"The online artwork and collectible trading markets will continue to attract strong investor interests as investor and collector confidence grows with the rise of China's economy and the middle class. OCG rides on the right industry cycle and is confident that the Company's long-term performance will benefit from the capital inflow and number of clients growth. OCG looks forward to creating increasing value for shareholders and share its development with the wider capital market." Mr. Wan added.
Ms. Fiona Ni, Chief Financial Officer of the Company commented: "Our operating revenues increased by $4.0 million or 29.7% from $13.4 million in fiscal year 2019 to $17.4 million in fiscal year 2020. Gross profit was $14.8 million in 2020, representing a 22.1% growth from the same period in 2019. Newly listed products and new accounts opening have driven most of the positive rebound in OCG's performance in the second half of 2020, which generated sales mainly from the collectibles and artwork listing services, marketing services and transaction fees. As of December 31, 2020, the number of types of collectibles, artwork and commodities listed on OCG's platforms were 303, representing 163% increase from the previous year."
"During the year 2020, OCG also had approximately 95,000 new accounts opened on the Company's trading platforms, representing a year-on-year growth of 44% from approximately 66,000 new accounts opened during the same period of 2019." Ms. Ni said.
About Oriental Culture Holding LTD
Oriental Culture Holding LTD is an online provider of collectibles and artwork e-commerce services, which allow collectors, artists, art dealers and owners to access an art trading market with a wider range of collectibles and artwork investors. Through its subsidiaries in Hong Kong, the Company provides trading facilitation for individual and institutional customers of all kinds of collectibles, artworks and certain commodities on its online platforms, as well as online and offline integrated marketing, storage and technical maintenance service to customers in China. For more information about the Company, please visit: www.ocgroup.hk.
Safe Harbor Statement
This press release contains forward-looking statements as defined by the Private Securities Litigation Reform Act of 1995. Forward-looking statements include statements concerning plans, objectives, goals, strategies, future events or performance, and underlying assumptions and other statements that are other than statements of historical facts. When the Company uses words such as "may, "will, "intend," "should," "believe," "expect," "anticipate," "project," "estimate" or similar expressions that do not relate solely to historical matters, it is making forward-looking statements. Forward-looking statements are not guarantees of future performance and involve risks and uncertainties that may cause the actual results to differ materially from the Company's expectations discussed in the forward-looking statements. These statements are subject to uncertainties and risks including, but not limited to, the following: the Company's goals and strategies; the Company's future business development; financial condition and results of operations; product and service demand and acceptance; reputation and brand; the impact of competition and pricing; changes in technology; government regulations; fluctuations in general economic and business conditions in China and assumptions underlying or related to any of the foregoing and other risks contained in reports filed by the Company with the SEC. For these reasons, among others, investors are cautioned not to place undue reliance upon any forward-looking statements in this press release. Additional factors are discussed in the Company's filings with the SEC, which are available for review at www.sec.gov. The Company undertakes no obligation to publicly revise these forward‐looking statements to reflect events or circumstances that arise after the date hereof.
For more information, please contact:
The Company:
IR Department
Email: IR@ocgroup.hk
Phone: +86 (025) 85766891
Investor Relations:
Janice Wang
EverGreen Consulting Inc.
Email: IR@changqingconsulting.com
Phone: +1 571-464-9470 (from U.S.)
+86 13811768559 (from China)